Thanks to the Commitment Award, more Filipino kids can now enjoy reading stories!
Life isn't easy for children living on the streets of Cagayan de Oro, one of the biggest cities of the Philippines. Even though these children are regularly riled up by the social welfare office and brought back to their youth homes or detention centers, many of them will often escape and return back to the streets. They eventually are left neglected and once of age end up in the drug or prostitution industry.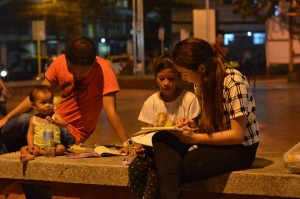 Together with the Ateneo Diplomatic Corps and International Studies Department of Xavier University, the 2015 Commitment Award winners, Hannah Saley and Jhon Magkilat, set up Reading on Wheels. Reading on Wheels is a cart, filled with books and writing material, aiming to inspire, teach, and motivate street children towards a brighter future. Hereby the University students, that use the cart to go out on the streets, don't just teach the children how to read and write, but especially instill value's of respect, integrity and knowledge, by inspiring an attitude of lifelong learning.
More information can be found on their Facebook-page!