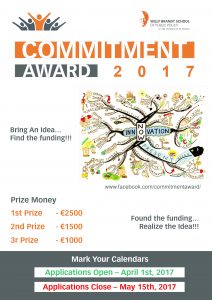 The 2017 Commitment Award is now open! Do you have an idea or project in mind that could help improve the lives of people around the world? Well then consider submitting an application to the 2017 Commitment Award, this award can help kick-start your project and begin the process of improving our world! Fresh and innovative ideas are what we need to solve today's policy, environmental and economic problems.
Three winning projects will be award on the 7th of July in the ThEx (Thüringer Zentrum für Existenzgründung und Unternehmertum). Applications will be accepted till the 15th of May.
The jury consists of various members from politics, civil society and the private sector. In 2016, Dr. Andreas Rickert, managing director of Phineo, Christiane Kilian, project manager of ThEx Innovativ, Marufa Akter, winner of the 2012 award, and Juan David Rivera Acevedo, winner of the 2014 award, have been jury members.
Follow us on Facebook!
https://www.facebook.com/commitmentaward/